Epilepsy 2019 Meeting &amp Hospitality
Address
JW Marriott Hotel Dubai
Abu Baker Al Siddique Rd, Deira, Near to Hamarain Shopping Center
Dubai - United Arab Emirates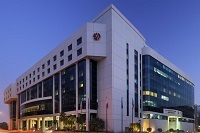 The City
Dubai is the most crowded and biggest city in the United Arab Emirates (UAE). It is arranged on the southeast shoreline of the Persian Inlet and is one of the seven emirates that make up the country. The city of Dubai is arranged on the emirate's northern coastline and heads up the Dubai-Sharjah-Ajman metropolitan domain. Dubai has created as a worldwide city and business focus the purpose of the Center East. It is in like manner a critical transport focus point for voyagers and cargo.
The city is sometimes called "Dubai City" to prevent it from being mixed up with the emirate. Dubai has many malls and one of the most famous around the world is called Dubai Mall, which is the largest mall in the world. Dubai has lots of skyscrapers and wealthy people. Dubai International Airport is located in the middle of the city. This city is a safe place for living. Dubai is a city which promotes happiness, safety and the wellbeing of its residents.
Dubai has attracted world attention through large construction projects and sports events, the world's tallest building, the Burj Khalifa.
Directions
Merge onto
Airport Rd
/
D89
Continue to follow D89
Continue to
Al Ittihad Rd
/
D74
Continue on
37th St
to
Abu Baker Al Siddique Rd
/
D78
Turn
right
onto
Abu Baker Al Siddique Rd
/
D78
Route Map